Benoit Boulet
Ph.D., Eng., William Dawson Scholar
Director, Centre for Intelligent Machines

Associate Chair -Operations
Associate Professor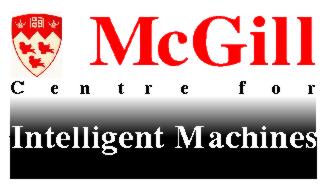 Department of Electrical and Computer Engineering
Systems and Control Group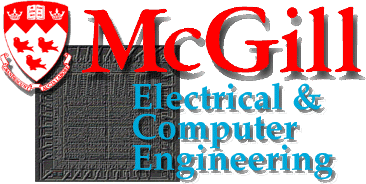 McGill University, McConnell Engineering Building, room 509
Montréal, Québec, Canada H3A 2A7
Tel: 514-398-1478
Fax: 514-398-4470 or 514-398-7348
E-mail: benoit.boulet_at_mcgill_dot_ca

Please consult my rolling two-week schedule if you wish to make an appointment.
News
I will be on sabbatical leave from September 2004 until September 2005 at the NRC Industrial Materials Institute in Boucherville. (posted June 8, 2004)

Proposed projects for Honour's thesis or Project Lab. If you're interested, please send me an email. (posted Sep. 9, 2003)


Research Interests
Robust Industrial Process Control
Theory and Applications of H-infinity Control
Robust Vehicle Control
Manufacturing Execution Systems
Research Sub-Areas
Control of material forming processes
Cycle-to-cycle process control

FFT-based control

Robust flight control
Control of flexible structures
Noise and vibration control
Optimal scheduling
Courses Taught
ECSE303 Signals and Systems I (ECE Dept)
ECSE304 Signals and Systems II (ECE Dept)
ECSE404 Control Systems (ECE Dept)
ECSE513 Robust Control Systems (ECE Dept)
Responsibilities and Committees
Associate Chair of Operations of the Department of Electrical & Computer Engineering
-Supervisor, Mechanical Design & Machining Group
-Supervisor, Communication Services
-Course Teaching Assignments

Director of the Centre for Intelligent Machines
Member of McGill's Senate
Experience
Research
Work
From September 2006, Associate Chair -Operations of the Department of Electrical and Computer Engineering at McGill University.


From June 1 of 2004, Associate Professor in the Department of Electrical and Computer Engineering at McGill University.


From October of 1998, Assistant Professor in the Department of Electrical and Computer Engineering at McGill University. I am also a member of the McGill Centre for Intelligent Machines and Director of the IALab. Research and teaching in signals, systems and control.
From Nov. 1995 to Oct. 1998, different positions as a consulting engineer at Hatch in Mississauga, Ontario, culminating in positions of Senior Control Engineer and founding manager of the Advanced Control and Optimization group in the Advanced Systems business unit. Project work in modeling, simulation, optimization and control of industrial processes, mainly in the metals industry. Quality management following ISO 9001 requirements.
From October of 1998 to August 2000, consultant with Hatch on a part-time basis. Project work includes: Event-driven optimal scheduling for steelmaking (EDOSS) and digital filter design

From March 1998 to September 1998, member of PRECARN's Research Management Committee.
Industrial R&D Projects
Development of a control system for the sheet reheat phase of the thermoforming process in collaboration with the Industrial Materials Institute of the National Research Council of Canada.
The control system is composed of infrared sensors connected to a real-time computer running advanced in-cycle and cycle-to-cycle multivariable control algorithms. It adjusts the powers to be applied to the heater zones to control independently the temperatures at various locations on and within the sheet in order to reach the forming temperature as quickly as possible while maintaining the surface quality of the sheet. This control system can be retrofitted to existing thermoforming machines or be part of a new machine design to achieve a shorter cycle time, better part quality, and better yield.
This work led to the spin-off company MAGI Control Inc. founded by my former graduate students.


Event-Driven Optimal Scheduling for Steelmaking (EDOSS), $1.4 million collaborative research project funded by PRECARN, Hatch, RADSS Technologies, and Chaparral Steel to develop an event-driven intelligent scheduling software for EAF steelmaking. The project also involves Prof. Randy Goebel, Dept. of Computing Sciences, Univ. of Alberta.
Discrete-event production simulation of a proposed extension to Stelpipe's steel pipe manufacturing facility in Welland, Ontario.
Digital compensating filter design and implementation for the Hatch Power Quality Analyzer.
Design, simulation and commissioning of a multivariable feed blending control system for Falconbridge, Sudbury.
Preliminary design of an integrated smelting furnace power controller for Cerro Matoso, South America.
Publications

Research Papers
Books and book chapters
Important note: In the first printing of the book, the Bibliography section was missing due to a production issue. Here is a link to it: Bibliography PDF

Errata: Revision 1 (4.6MB PDF file, May 19, 2006)

Fundamentals of Signals & Systems has won the 2005 Readers Preference Editor's Choice Award in the "Science and Mathematics" category.


B. Boulet, A. Noël, D. A. Coggan, Chapter 7: Analog and Digital Control Devices, Fundamentals of Industrial Control, 2nd Ed., D. A. Coggan, Ed., ISA and CRC Press, 2004. ISBN 1-55617-863-8. Link on Amazon.com: Fundamentals of Industrial Control

Professional Affiliations