15.6 Hallsey Mark 1 and 2

---
by Wout Blommers

In the late sixties and early seventies my musical friends and I were really POOR! Most of the gear was fake... The bassplayer could paint the Gibson lettering so well, he's now a typographical designer. In those days we build our own Synths, yes sir! For the Hallsey Mark 1 we used the oscillator of our Farfisa organ. The Synth sound was made by distortion and it sounded like distortion...

The first try-out we did was during a gig and the sound was so terrible, the organization of the party threw us out! After that failure we build the Hallsey Mark 2. (The name Hallsey was chosen 'cause our bassman made MARSHALL on two plates, MARS did fell off the fake amplifier and we added 'sey') The Mark 2 was a real modular synth, only its oscillators wouldn't tune in line... (It had sample&hold, mixers, LFO's and all that stuff) The Mark 2 was stolen during a gig and some days later our leadsinger found the poor thing at the side of a road, 'cause the thieves couldn't make any sense out of it, me think.

Mark 3, of course also from the famous 'Hallsey factory', was, so I believe, one of the first Synths which used AD and DA converters. Two of our gang worked at the university, where such electronic equipment was developed for Philips. (No, they didn't steal them: it was just an university, you know, where the professors also carry uranium 238 in their pockets) I think only the Mark 1 is interesting to emulate here ;-) Played in the lower regions, it was a wonderful beatbox, but we didn't knew then... (Press the low C and hold it a while) Those Shapers were really there. The LFO's in a way too. And the distortion remains!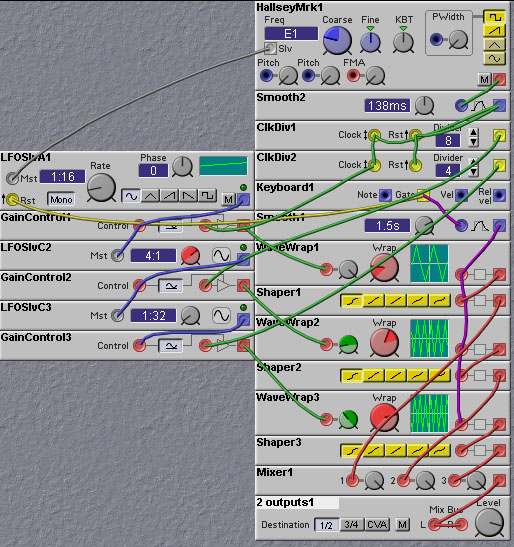 Figure 15.5. A Nord Modular emulation of the famous Hallsey Mark 1 (W. Blommers).
15.7 Other Emulations

---

Emulating favorite synthesizers seems to be a popular pastime with Nord Modular owners. Here is a list of some vintage synthesizer emulation patches.

ARP 2600, by Roland Kuit (this is just a basic template - Roland has created many more patches using this template).
ARP Omni, by Andy "Buckshot"
ARP Omni, by Rob Hordijk
ARP Axxe, by Kevin Thomas
ARP Axxe, by Mr. Marko
ARP Solina, by Bergmuller
Roland Juno, by Roland Kuit
Roland Juno-6, by Bergmuller
Roland Juno-2, by Kendall Jackman
Korg Electribe EA-1, by Douglas R. Kraul
Korg Mono/Poly, by Rob Hordijk
Korg MS-20, by Wan Kemper
Korg MS-2000, by Rob Hordijk
Korg Polysix, by Bergmuller
Korg Poly61, by Keyboardslover
Korg Poly800, by Klaus Ludwig/Peter Gorges
Moog Minimoog, by Bill Barton (there are a number of other patches available based on this template)
Moog Rogue, by James Maier
Roland Jupiter-8, by Bergmuller
Roland JX-8P, by Roland Kuit
Roland SH-101, by Rob Hordijk
Roland SH-101, by Bergmuller
Sequential Circuits Prophet-600, by Bergmuller
Sequential Circuits Sixtrak, by Rikard Latvala
SID, by Andreas Wickman
SID, by Rob Hordijk
Yamaha CS-40M, by Bergmuller

---
[Prev (Spatialization)] [Table of Contents]



(c) James Clark 2003