Blood Vessel Analysis
Maxime Descoteaux
McGill University
School of Computer Science &
Center for Intelligent Machines
3480 University Street
Montreal, QC H3A 2A7, Canada
mdesco@cim.mcgill.ca
   
Introduction
A three-dimensional (3D) representation of vasculature in the brain is extremely important in image-guided neurosurgery, pre-operation planning and clinical analysis. Typically, the data is available in a set of two-dimensional slices covering the brain, where a lot of information is present but noisy and hidden in between slices. Experts have to select and color the desired regions of slices before a program connects the colored components. This is tedious, not precise and prone to human error. There is no reason why one could not obtain improved results using intelligent shape models and automatic reconstruction algorithms. In the course of my master's research, I have mastered the theory of such model-based techniques using invariant geometric flows for blood vessel segmentation. These types of evolution equations are flexible and adaptable to new constraints and external forces. The essential idea is to evolve a surface in 3D so that it clings to the features of interest in the image.
   
Problem
We are given a magnetic resonance sequence of images (MRI) like the proton density shown below. Note that blood vessels appear dark on bright structures in PD images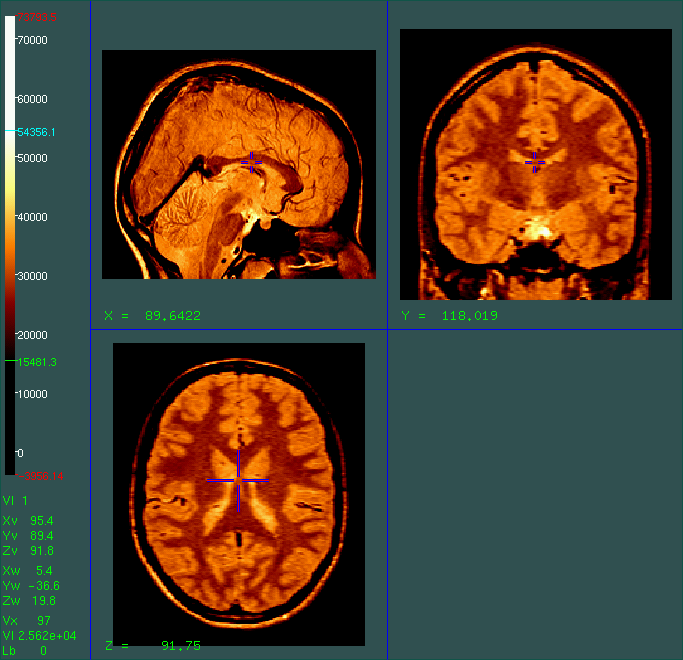 Currently, most blood vessel segmentation approaches in the literature work on specific MRA (Magnetic Resonance Angiogram) examples but are not applicable on common MRI sequences like PD, T1 or T2. The challenge is to detect and segment the 3D vasculature tree present in that kind of standard MR image commonly used in all hospitals.
   
Approach
Here is the result of the flux maximizing flow segmentation on a MRA image presented in [1]. A flow version of the augmentation that considers the estimated vessel geometry of tube-like structures will be available soon.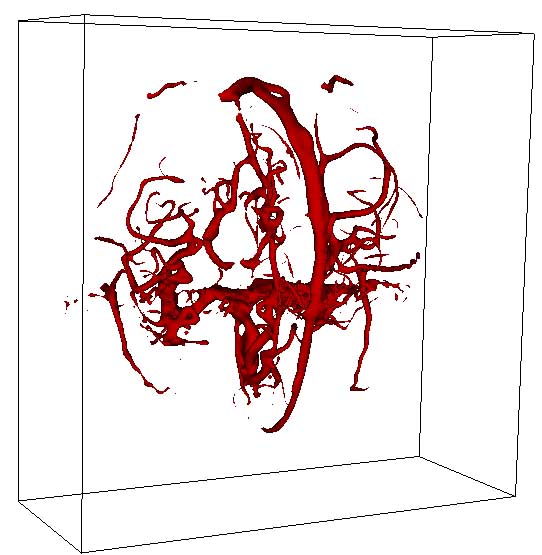 A. Vasilevskiy and K. Siddiqi
Flux maximizing geometric flows.
IEEE Transactions on Pattern Analysis and Machine Intelligence, 24:12, pp. 1-14, 2002.
A. Frangi, W. Niessen, K.L. Vincken, and M.A. Viergever
Multiscale vessel enhancement filtering.
Proc. MICCAI'98, pp.130-137, 1998.
K. Krissian, G. Malandain, N. Ayache
Model-based detection of tubular structures in 3D images.
Computer Vision and Image Understanding, 80:2, pp. 130-171, Nov. 2000.
---
Maxime Descoteaux
Last update: November, 2003