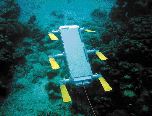 CREDIT: COURTESY OF MCGILL UNIVERSITY MOBILE ROBOTICS LABORATORY

ADVERTISEMENT

Gregory Dudek's team has created a truly intelligent machine, and here's the proof - it spent one of the worst weeks of January swimming among coral reefs off the coast of Barbados.
Developed by researchers from McGill, York and Dalhousie universities, the Aqua Robot is a sleek silver creature slightly bigger than a bread box. It trawls underwater on six yellow flippers, using the latest advances in robotics and computer vision to monitor and record what it unearths on the ocean floor.
Dudek, a computer science professor at McGill, where he is also director of the Mobile Robotics Lab, said their invention passed its first field test at McGill's Bellairs Marine Research Institute this month with unnerving ease. "It was a marvelous gift," Dudek said, "especially when you think about Mars, where they spend hundreds of millions of dollars to send up equipment, and half the time it doesn't work."
That allusion to space travel is no accident. Dudek and his colleagues believe what they've learned while developing Project Aqua may have broad application high in the sky and here on Earth.
"In a way, you could say that underwater is more difficult. Mars is further away, but once you are there, it's not that different from what you'd find in your backyard - a flat surface which can be negotiated on wheels, and we know how that works."
No longer the far-fetched appliances of television's Jetsons, Dudek envisions robots as the household and office helpers of the future - delivering mail and hospital trays, driving cars and patrolling the property or doing simple chores for the elderly and disabled.
The idea for the Aqua Robot came out of discussions Dudek had three years ago with Michael Jenkin, a York University researcher with whom he has collaborated for more than a decade.Together with Martin Buehler, formerly of McGill, Evangelos Milios of Dalhousie and their graduate students - and supported by the Ottawa-based Institute for Robotics and Intelligent Systems, NSERC and the Canadian Space Agency - they set to work on building a robot which could walk and swim, take pictures and even recognize familiar landmarks.
Teams at the three schools functioned independently. McGill constructed the six-legged robot and developed a computer vision system using a single camera. Jenkin's crew devised a stereo vision, using three cameras to achieve a 3-D perspective on the underwater landscape. At Dalhousie, Milios worked on ways sound could be used to keep track of the roving robot's precise location.
"The vision skills exhibited by this robot are at the cutting edge of what robots can do today," said Dudek, who cited a technique by which the robot's computer takes the image from a single camera and interprets how it would look in 3-D. "It's very, very exciting. Not many people are doing this."
Anthony Eyton is the director of IRIS, which subsidized the underwater robot project to the tune of $600,000 - money which helped cover travel expenses and stipends for graduate students. He sees a variety of obvious uses for the robot, which could check reefs or seabed conditions, monitor offshore drilling rigs or deteriorating dams, without the risks or costs of sending people underwater. Before that can happen, Eyton said Aqua Robot needs to be "ruggedized": endurance-tested so it can withstand multiple submersions with minimal maintenance.
"I'm not as interested in the packaging as I am in the science that makes it work," said Dudek, who agrees the Aqua Robot is at least a few years away from the point where it could be manufactured and sold.
The prototype is still quite fragile. Since the robot's return to the test lab at McGill, Dudek said it's swimming legs have been a bit wonky. Last weekend, the battery charger - U.S. military issue, "the only part we didn't build ourselves." - caught fire.
And of course, there's the real issue. If this robot was really so smart, why did it ever leave the beach?
pcurran@thegazette.canwest.com